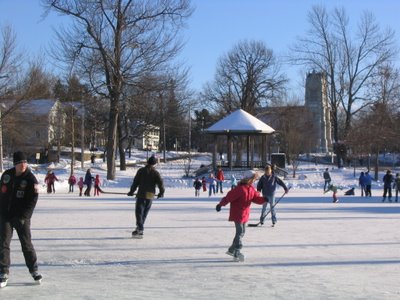 Spring is in the air if not on the ground. The snow's melting, the red squirrels are out and birds are singing. Instead of shuffling along a crust of ice, every step is a Stairmaster plunge into knee-deep slush. My retriever bounds like a jackrabbit. She loses a tennis ball every walk, her muzzle white from digging frantically.
Who am I kidding? With but one day left until March, it's not time to count crocuses this far north. There will be more snow, and then it's mud season. Real spring with flowers and leaves comes in May. For now the village green is still a skating rink, waiting for June to become the farmer's market with local produce and vendors selling hot dogs, wraps, ice cream and fresh squeezed lemonade. It's a long wait until summer.
Brunswick's
sister city
is Trinidad, Cuba. Opposites attract. The Cuban celebration is March 2-10. To kick it off, the Elks Lodge is throwing a salsa dance 7-11pm on March 2nd. Bowdoin has a lecture on Havana 7pm at Druckenmiller on March 5th. At the Little Dog Coffee Shop on March 6th, 4-6pm, poet
Gary Lawless
will read from
Cuban Heart
to benefit the Trinidad Children's Library. Eleven restaurants in town will serve a special Cuban dish or drink.
The
Frontier Café
at Fort Andross will be playing Cuban music while the public is invited to create a mural with Christopher Cart. All week long, Cuban documentaries will air in the theater.
A welcome new addition to our town, the Frontier Café opened only last October. The location is phenomenal: looking out over the Androscoggin River's hydroelectric dam from the 300-year old mill. It's a gallery, independent film theater and gourmet café. The expansive space, healthy cuisine and refurbished/reclaimed decoration reminds me of San Francisco, but the view is rough industrial/bucolic Maine.
When the river thaws, the fishing shacks are hauled off the ice, and the wildlife returns in full force. Outside the enormous windows, diners can watch bald eagles sparring with osprey for spawning herring, salmon and Smallmouth bass. On midstream boulders, cormorants spread their wings to dry in the sun. Kids come out to fish, and kayakers paddle the rapids. Traffic streams across the rusty bridge from Brunswick to Topsham.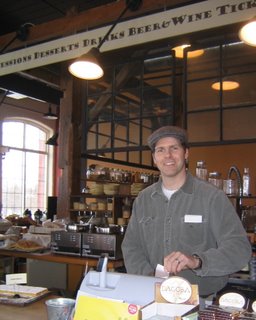 The 38-year-old owner of Frontier, Gil, is as cool as his business. He used to lead adventure travelers to Russia, China and the Middle East, but the latter route was stymied by 9/11. Returning to the US, Gil and his wife, Chelsy, started up the Frontier without any previous restaurant experience. You would never guess.
Artists and craftsmen, who work in the mill studios, join locals and vacationers for fair trade tea, paninis and organic salads. In the corner hangs a
Penobscot Bay Porch Swing
. Sarah Bloy sews her cozy, colorful concoctions appropriately enough in the former textile mill. Gil's buddy, National Geographic photographer
David McLain
, pins his exotic images to the walls. It's a unique space that manages to be both here and there.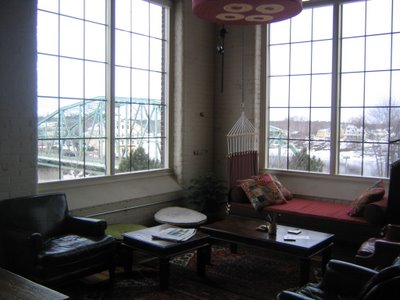 It's been almost a decade since I moved to Maine, and in that time it's been fun to see Brunswick transform into a cultural center with monthly art walks. The winters may be too long, but the summers are perfect and the fall an explosion of color. You don't have to look far to find interesting material.
My former home is not so far away. This weekend I'm heading south to NYC for a visit. Hope the Manhattan snow's melted by then!