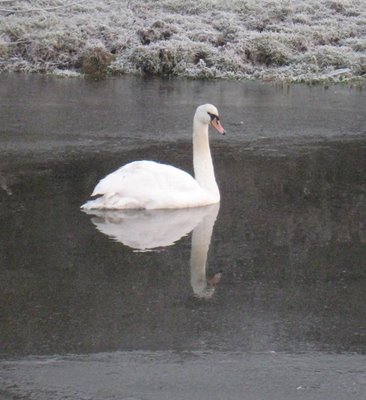 A swan feather frost covered Port Meadow last Thursday, but it melted into mist long before Christmas. I remember one magical year in Britain when we awoke to a sparkling frost, but mostly a white Christmas in England means dense fog. Back home in Brunswick, Maine, they've had 28 inches of snow just in December. Our buddy,
Pete Coviello was out ice fishing
.
When it comes to Christmas spirit, the Brits snow anyone over. Our corner shop, the Post Box in Wolvercote, has covered every surface in tinsel with Christmas crackers (more on that later) hanging from the ceiling. Carl, another Brit married to an American, decks his shop out "for the children." He sells what I would call miniature X-mas trees along with his usual supply of free range eggs, organic juices, fresh veg, milk and canned goods. It's also our post office but only open a couple of odd hours on assorted days. There is something very small town American about a post office/convenience store. It brings a community together.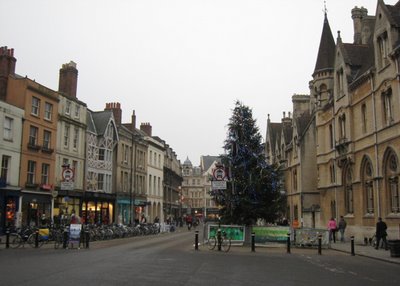 Oxford at Christmas
All of Britain basically shuts down over Christmas, a national holiday. Even the trains don't run for two days. Holiday cards are clipped to red ribbons and hung from the moldings. Most have nativity scenes or pastoral scenes in snow instead of the ubiquitous family photos and Santas you see in the US. Christmas feels far less commercial in the UK although many Brits go into debt paying for it. Decorations will stay up until
twelfth night
. People say "Happy Christmas" instead of "Merry Christmas" or "Happy Holidays;" there is but one holiday for most of England.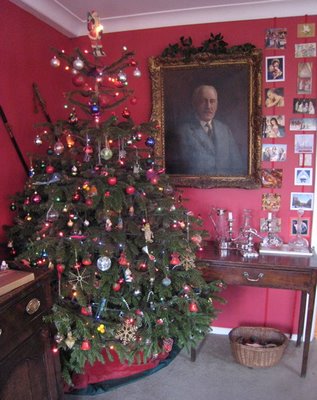 We spent the long weekend with
Henry's family in Goring-on-Thames
. It was a tight squeeze: 11 people and 2 dogs. The children helped their grandparents harvest mistletoe from the old crab apple tree. It spreads like ivy, clumping into balls – the male is yellowish and the female has the distinct white berries. They save a sprig for their house and barter the rest for a Christmas tree. Bits of holly are collected from the countryside to place over portraits of ancestors (that's my husband's great grandfather, Steven Cattley.)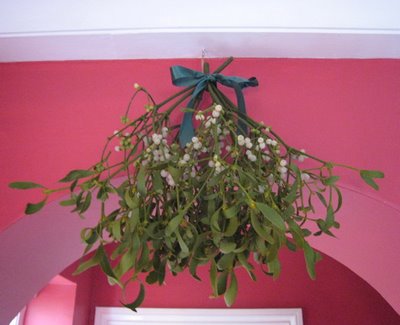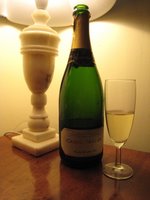 Saturday was a "champagne" and canapés luncheon we all helped prepare for village friends. The English sparkling wine was surprisingly good. Camel Valley is in Cornwall. I met an old friend of Henry's, the photographer
Charlie Glover
. His wife,
Miranda Glover
, writes women's fiction just like me. We had fun talking shop and planned to get together soon. Like my character from NOT CRICKET, Miranda was at Oxford in the 1980's and recently moved back to the area. I'd love to meet her writer friends as I miss my support community in Brunswick. Writing is a lonely profession.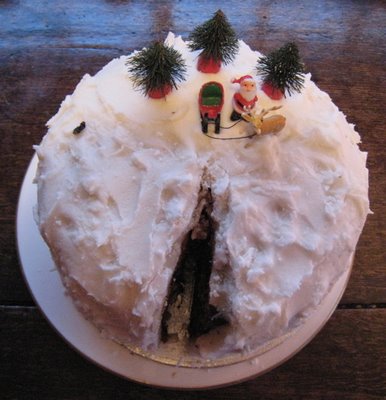 On Christmas Eve we had Christmas cake for tea. It's a dense fruitcake with a two-layer frosting: marzipan then white sugar.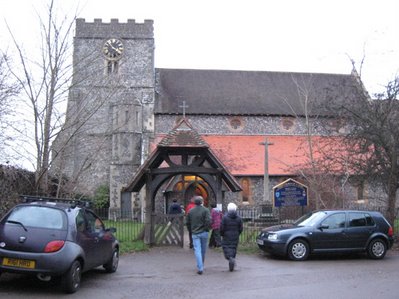 After tea we crossed the River Thames to Streatley to attend the children's service at
St. Mary's
. My son was christened in this 13th century church in a Georgian gown, a family heirloom. Note the small cars.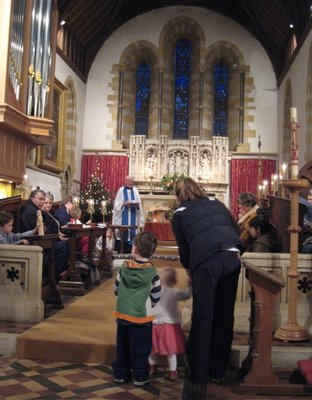 The service told the story of Jesus's birth and invited the children to bring up the animals and figures to fill in the manger. Candles dripped as we sang carols. The children placed presents by the tree for underprivileged children.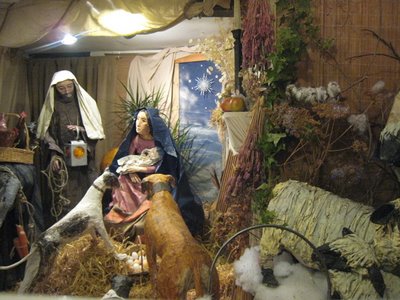 On the walk back home, we stopped at the old Goring Mill. The woman who lives there creates a life size paper mache manger in her living room. The children count the little creatures (this year baby owls) and write the number down for a raffle. She also collects donations for her
Swan Lifeline
, aiding injured swans. My question is: why doesn't the wealthy Queen look after her ailing swans?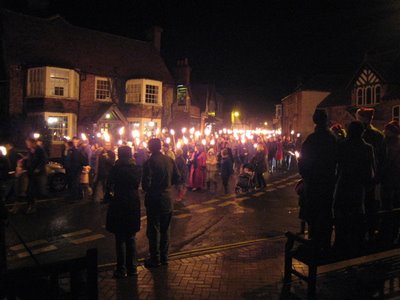 At 6pm a torchlight procession gathers in Goring and in Streatley, convening in the fields for carol singing around a huge bonfire. There were hundreds, if not thousands, of participants. The flaring torches seemed to float above the river as they crossed the bridge.
To warm up, Henry and I slipped into our favorite Goring pub, the Catherine Wheel, for Hobgoblin bitter by the roaring fire. The pub was decked out for the holidays and full of families.
For Christmas Eve dinner we had lamb tagine followed by 3 puddings (English for dessert). The adults had mince pie, which is a miniature pie of dried fruit and minced meat or a substitute, which is topped with brandy butter and then drowned in double cream. For the children, my mother-in-law had crafted a Chocolate Log, which is basically a Maine whoopie pie: chocolate cake and whipped cream with a sprig of holly. Since I'm lactose intolerant (a sad fate in Britain,) she had made a caramelized orange pudding for me. We never made it to the stilton and port.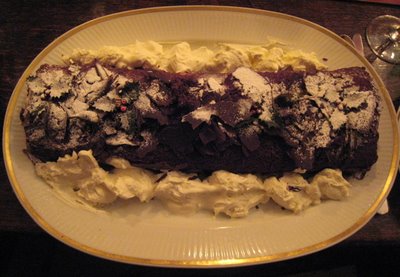 After pudding, it was time for Christmas crackers. Two people pull (or you circle round the table) and crack! Inside is a paper crown and dinky prize for the winner like nail clippers. Also a dumb joke eg: what do you call a person who's afraid of Santa? Claustrophobic! Dear Elizabeth, an elderly cousin, buys enormous quantities of crackers so that no one is a loser. "There can never be too many crackers on Christmas," says she.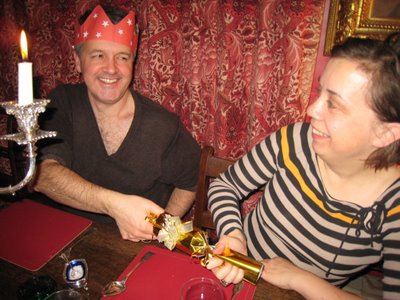 On Christmas morning the children woke before sunrise for their stockings. We had a candlelit breakfast of croissants since the sun doesn't rise until after eight. It sets before 4pm. We are even farther north than Maine. My father-in-law gets little sleep at Christmas since he was out past midnight
ringing church bells at both Goring and Streatley
. Before having children, we used to attend the 11pm carol service. Never one to complain about duty, the Captain rang in Christmas morning as well.
Most of the grown ups headed to church and to champagne at a neighbors' while Henry and I took the 4 children and 2 dogs for a walk along the Thames tow path. My nine-year-old nephew slid in over his wellies, and before we knew it, the 3 younger children were sliding down the muddy banks and jumping in the river with the dogs! It was raining so I hadn't brought my camera. I was cold just watching them, but they have English blood.
It was a good distraction, as the children were going crazy waiting to open presents. This could not commence until after
the Queen's speech
although my son suggested just watching it later on You Tube (half a million did!) At 3pm we gathered round "the telly" to hear the oldest British monarch (Queen Victoria is still the longest reigning) address her nation. Then it was time for more tea and gifts. I got 2 umbrellas! That scared the rain away, and we were treated to a rare sunset. Note the balls of mistletoe in the tree.
Christmas dinner in England is always turkey, roast potatoes and Brussels sprouts. My husband and his sister prepared the feast while the rest of us played charades. Their mother already made a traditional chestnut and sausage stuffing. There was also bread sauce made by simmering a clove-studded onion in milk (or, yet again, cream) and then dissolving breadcrumbs into it with seasonings.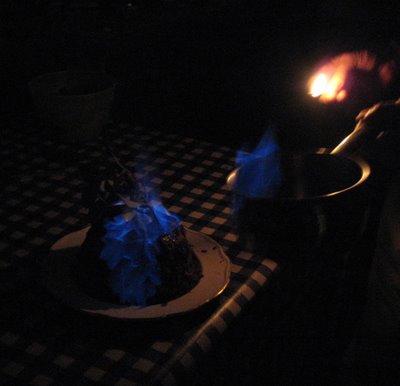 The climax of the evening is the flaming Christmas pudding. Brandy is ignited that spreads to the sprig of holly. The pudding itself is alcohol infused fruitcake with hidden sixpences. The lucky make a wish on the old currency; the unlucky break a tooth!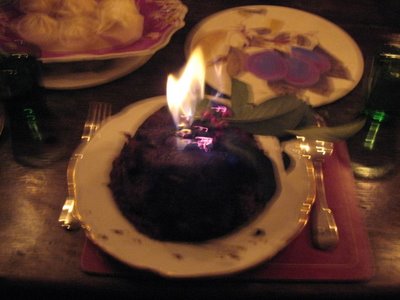 Christmas was not over the next morning. On
Boxing Day
we journeyed out on the ancient ridgeway for a long walk. We passed through the site of the old Roman temple (below). The undulating greens were from a pastoral painting. An English Christmas is like stepping back in time.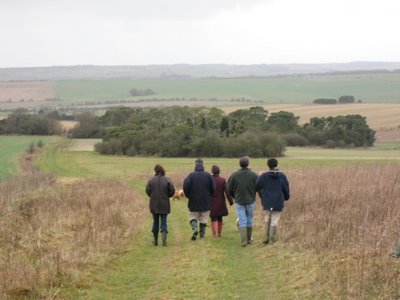 Today it was 64F/18C! My son and I walked along the canal into Oxford. Last week's frost seems so long ago. Have a Happy New Year! It's been a fun first year of blogging for me, and I've enjoyed your comments. Thank you!