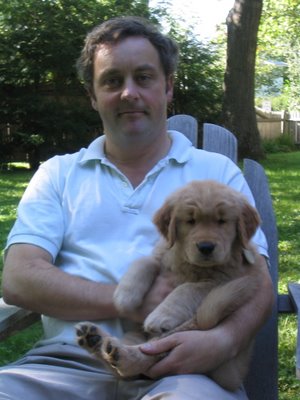 Henry with Stella 2004
"The dog ate my driver's license," I said at Motor Vehicles. I had to show her the half chewed card before she believed me. Then I had to wait for her to stop laughing.
We shouldn't have gotten Stella in the first place. My husband, Henry, was having heart problems, but the children had already picked a puppy on Cape Cod. I called the breeder to explain. Before I could say anything, she told me we could have our first choice. My daughter hadn't gotten over losing our first dog the year before, and my son wanted to know if his father would die too.
I agreed to drive into Boston to pick up the puppy, even though Henry was in no shape to travel. My friend Elizabeth drove down with me instead. She was one of the few people who didn't think I was making a huge mistake, and she was right. We needed that crazy puppy for comic relief.
It wasn't always funny. Stella ate herself sick on mushrooms and tried to commit suicide by chewing through a safety bottle of Advil. She left tooth marks on my father's slipper when my parents came up so I could be with Henry in the hospital. My friend
Mark Wild
and his family offered to look after Stella on those days.
Other friends brought meals or took the kids overnight. When an ambulance arrived at our door, my retired neighbor crossed the street to watch the kids. Al didn't even call first. Henry was turning blue, but I didn't panic. I knew the paramedic; he was my friend's brother,
Peter Wild
. A small town is special.
On and off through his recovery, I was still working, and Henry needed to rest in a quiet house. One weekend I loaded up the kids and the puppy to drive to Georgetown Island for a painting sale. During the week Stella yipped in her crate when I tried to write. She made me get out and walk in the sunlight and the kids giggle with delight.
My work and that needy puppy kept me sane as the months dragged into two years. I also learned from the experience to include comedy even when writing tragedy. Shakespeare figured that out before me.
For a year now Henry has been healthy. He's finally on just the right medication with a pacemaker, and the puppy had grown into a somewhat more obedient dog. Still, today Stella brought me a chewed pencil in two parts as if she wanted to help me write. She's good company even with the trouble.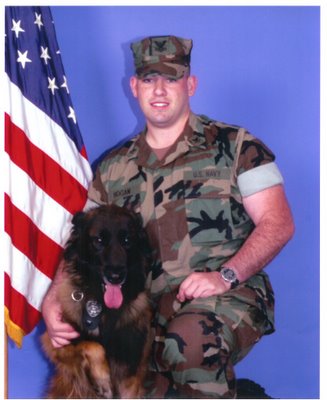 MA2 Shaun Hogan with MWD Paco, bomb dog 2006
Researching
Moose Crossing
, I met the world's most obedient dog. I imagined a scene with a police dog tracking a missing child through the woods, but was my vision accurate? In a classic small town moment, I discovered that my daughter's soccer coach, Shaun Hogan, commanded the bomb dogs at
Brunswick Naval Air Station
. He'd trained his partner dog, Paco, to track humans as well and offered to stage a re-enactment from my book at the base. Paco was one of the dogs that sniffed out the 9/11 site before the presidential visit last fall.
Running behind Shaun as Paco tracked the scent, my fiction came to life. The passage is only a couple of pages, but it is true. Shaun, a former elementary school teacher, even checked the language for me. I spoke to a judge, police detectives, computer scientists, cyber-crime experts, missing children organizations, historians and a state wildlife ecologist about moose. It's fiction, but I still like to get it right.
Sloppy facts and grammatical mistakes irritate me. That doesn't mean rules can't be broken. Natural dialogue is not always grammatically correct, and there is always room for poetic license. The trick is to create an imaginary world that sounds both plausible and appealing. The research is fun and takes me out of my office into the real world. Writers need more than dogs for company.