One of the best things about living in England is having the rest of Europe at your doorstep. A long weekend in Paris is easier than popping down to NYC from Maine. The high-speed Eurostar train travels between London and Paris in only 2 1/2 hours. Security and passport control are so fast they recommend arriving only a half an hour ahead of time. After zipping through the Chunnel (the Channel Tunnel,) you just step off the train and are free to go.
We took the commuter rail to our friends' house in the western suburbs of Paris. Craig Bradley, the former Dean of Students at
Bowdoin College
, is now working for the
Aga Khan
. Craig is helping to set up a series of secondary schools in developing countries.
It is Craig's dream job, especially given his love of France, but we were sad to see his family leave Brunswick, Maine last year. Elizabeth Webb and their daughters were in my playgroup, and even our dogs were close friends. I can't go to Popham Beach without thinking of our sunset picnics and ocean canoeing adventures, but happily they come back to Maine for the summers.
Their daughters are attending an international school designed for expats and repats. It is public school with a mini private program for different nationalities to maintain the second language. After the transitional year, the girls now take all other classes in French and are getting close to fluent. If they stay long enough, they can get French citizenship and will graduate with an International Baccalaureate.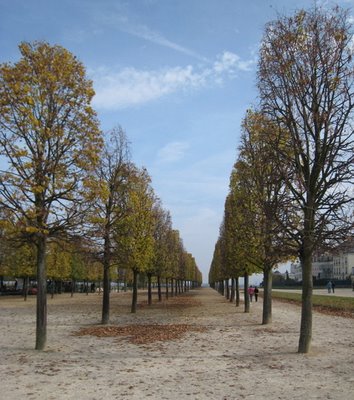 The price is that the French approach to education is as regimented and conformist as the landscaping. My daughter's friend said she felt like one of those French trees. Individuality among school children or plants is discouraged. Trees are planted symmetrically and cut into even boxes in parks and along streets. Even the forest trails are numbered and drawn in straight lines with little regard to the topography.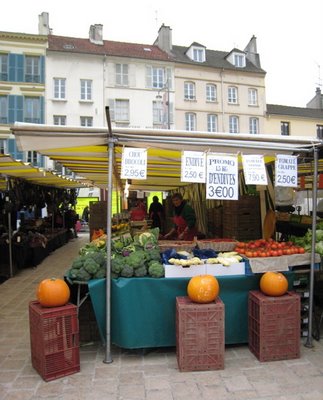 Saint Germain-en-Laye, the birthplace of Louis XIV, is a charming town with little shops and an open-air market 4 days a week. Every transaction is conducted in French, which was great practice. That's Elizabeth in the fromagerie talking cheese. This was something like my seventh visit to France, and I love their appreciation of fine food. On Sundays after noon you are forbidden to mow the lawn in case that might disturb dining.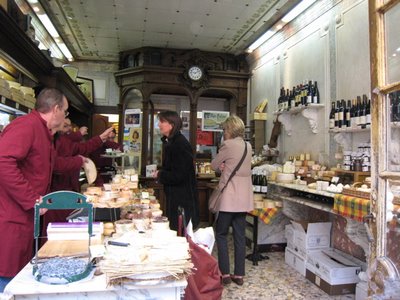 For lunch we went to
Larcher
, a delicious creperie that the children adored. Then our family went to Paris on our own. There was an interesting cubism exhibit at the Musée Picasso and a fabulous
Giacometti
exhibit at the
Centre Pompidou
. The view of Paris from the outside escalators is worth the price of admission alone. Sadly, it was overcast for most of our visit, but at least it wasn't raining. Plus at this time of year, there were few crowds.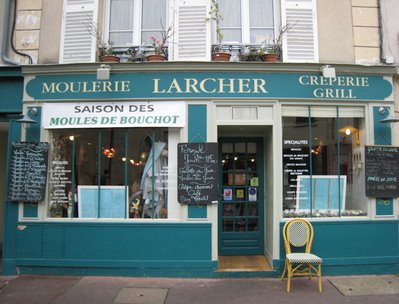 My son is studying the French revolution and was writing a paper on
Marie Antoinette
's abortive escape from execution. We drove 20 minutes to Versailles and history came alive. At this time of year the fountains are off and the statues covered but admission to the gardens is free. We headed to Le Petit Trianon, a "little" palace Marie Antoinette inhabited to avoid the grandeur of the Versailles court. The gardens there were in the English landscaping style, planned just as carefully to appear natural.
We didn't go hungry. In the mornings the girls picked up fresh baked croissants and pain au chocolat from the local boulangerie. On Saturday night we had a delicious meal at
Au Pere Lapin
. It was French but without the cream and butter and with an Asian influence. From the street we had a great view of the Eiffel Tower all lit up for night. Dinner is served late, at 8:00 pm or later, and lasts for hours. Rush hour in France is 6:00-7:00 pm, and many Parisians take a long lunch break.
On our last day, my son wanted to see the Conciergerie where Marie Antoinette and her family were held before execution. Prisoners were often tortured before going to the guillotine. After that they would go to Napoleon's Tomb and War Museum. Elizabeth and I decided the ten-year-old girls would prefer to see Monet's lily paintings at the newly re-opened L'Orangerie.
My husband proposed splitting into two groups: the death party (ou la partie de la mort?) and the lily party. The guys headed off with ghoulish eagerness. Elizabeth's oldest daughter joined them as even death was better company than listening to little girls sing fake commercials. Talk about torture! It was my daughter's second visit to Paris, but she was more interested in her long-lost twin. Hard to blame her.
A test of Monet's skill was that the girls stopped singing long enough to admire the art. As much as these paintings are almost a cliché, it is an incredible experience to stand in the airy oval rooms surrounded on 4 sides by enormous lily canvases. You feel part of the landscape, like standing at a mountain's summit.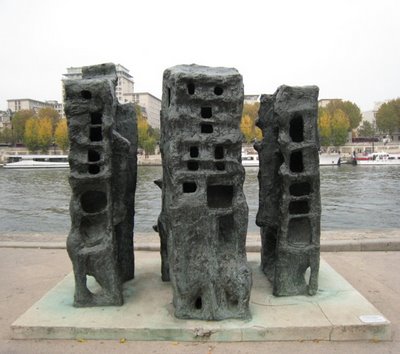 My favorite part of being in Paris is just wandering the streets, the gardens and along the Seine. We walked half the length of the city to a free outdoor sculpture garden on the riverbank near Le Jardin des Plantes. In France you are allowed to touch the sculpture, as one should.
It was hard to say goodbye to our friends but easier to leave Paris in a downpour. We emerged on the other side of the Chunnel in shock: the sun was shining and the skies bright blue. It felt weird to be speaking English again. The time in Paris with old friends brings to mind one of
Fredrick's Fables
where a poetic mouse stores memories of summer to get through the long winter. I shall savor the taste of Paris.
The market pumpkins reminded me that it is Halloweeen. We got some candy but will we get trick-or-treaters tonight? Back in Maine there will be a children's parade down Maine Street. It's not a day you can forget. I suspect Thanksgiving will feel odd too.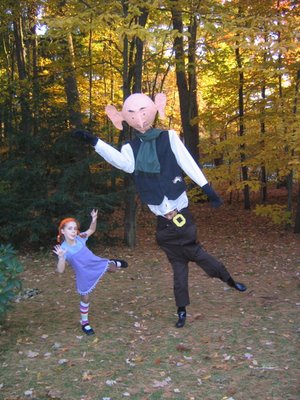 My kids as Pippi Longstocking and the
BFG
in our backyard in Maine
P.S. For those of you who are wondering how I could be in 2 places at once, the
Times Record
editor decided to sign my political endorsement letters Brunswick rather than Oxford. On Friday 11/2 is my
letter for Bob Morrison
for school board at-large and on 10/11 was
my letter
for
Dugan Slovenski
for district 2. Henry and I voted absentee.
The French have amazing turn-outs. Elizabeth asked a neighbor why, and she replied, "we fought so hard for the right to vote." So did we. Don't forget to vote Tuesday!