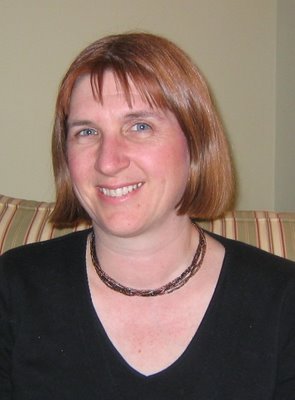 "It must be something in the water,"
Cynthia Lord
surmised. Cindy's first children's book,
Rules
, just won a
Newbery Honor Medal
and the
Schneider Family Book Award
. We both live on the same street as
Charlotte Agell
who has published eleven children's books. I guess I should drink more water.
Rules
is fiction, but it rings true. Twelve-year-old Catherine tries to teach her autistic younger brother the rules of life. David has to be told that it's okay to take his shirt off to swim but not his pants. Catherine creates the words to communicate with her paraplegic friend, Jason, and struggles to get her busy parents to listen to her needs too. The characters have challenges that restrict their lives but don't define them. They find happiness on their own terms without a miracle cure.
When I read
Rules
aloud to my children, it made us laugh and almost cry. It was quite an accomplishment to create a book that would appeal to both a nine-year-old girl and a twelve-year-old boy, not to mention their mother. The book was flawlessly well written.
"Most books about autism are so sad," Cindy said, "but a family has to learn how to laugh or they're not going to make it."
CYNTHIA LORD INTERVIEW:
Is there a true story behind your story?
When my son was first diagnosed with autism, I spent forty hours a week on
Behavior Modification Treatment
because Maine didn't offer it. The state flew up experts from New York and paid for the student helpers I trained. It was worth it to see my son recover the words he had lost at eighteen months.
Now my fourteen-year-old son attends the junior high for special classes like cooking and art. It's too noisy there for him to concentrate in such a big school, so he does his schoolwork at home. His seventeen-year-old sister attends the high school.
How did you find the time to write Rules when your son was only five?
I realized I would have to make time for writing or not want it anymore. I set my alarm for 4am and wrote every morning until my family got up at 7am. In four months I finished the first draft and then spent a year revising it with help from readers.
Was the road to publication as short?
The first two publishers rejected
Rules
but sent the manuscript back with helpful comments. I rewrote it and sent out a query letter and two sample chapters to four more publishers. One rejected it with a form letter, but the other three asked for the complete manuscript.
I loved the Scholastic Book Club as a child, so I granted Scholastic an exclusive read. Then September 11th happened, and everything ground to a halt. After eight months, I finally got a call from the editor saying they would be running some numbers and planned to acquire it. I realized that I needed an agent to negotiate the contract, so I called
Tracey Adams
in New York. We had met at a conference.
So why did the book not come out until 2006 – almost five years later?
As a first time author, I was put on the slow track. The manuscript went from one over-committed editor to a second one. There were revisions to add more drama. Even when the manuscript was ready, I was bumped off the list by established authors. New authors were the first to be cut when the list had to shrink for financial problems.
How did you deal with the long wait?
It was demoralizing, but I kept writing. Scholastic bought my picture book; it's waiting for illustration. My second middle reader (grades 4-8) was pending senior editorial approval when
Rules
won the Newbury Honor Medal. Scholastic immediately made an offer on that book and another one I have yet to write.
What is the next book about?
Halfway Between Hope and Hurricane
takes place on an island off the coast of Maine with a protagonist whose mother teaches at the school. I drew from both my own experience as a teacher on
Chebeague Island
and an historical incident on another island. In the 1960's
Frenchboro Island
tried to head off closure of their school by bringing in foster children from the mainland. For me the ethical question is the most important part. Do the means justify the end?
You won't have to wait too long to find out.
Halfway Between Hope and Hurricane
is projected for a fall 2008 release. Since the Newbury Honor,
Rules
has spent 10 weeks on the
NYT
bestseller list and is in its fourth run. Cynthia Lord is on the fast track!