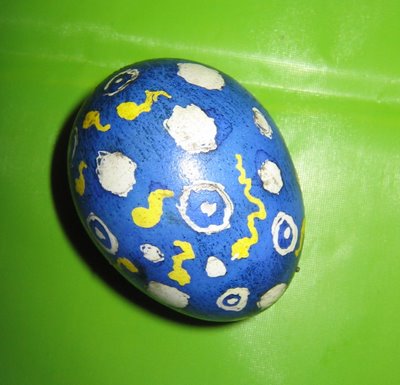 On Monday night I found myself walking home in an April snowstorm. Around my neck was a Star of David and in my raincoat pocket was that Easter egg. It was the first night of Passover. Torn between two religions and trapped in mud season, it can be hard to find my balance.
Barb Swisher throws an Ukranian Easter Egg party every year. You melt wax over a candle and dribble patterns on an egg; then drop the egg in dye. Whatever was waxed stays white. More wax and dye dunks, and colors emerge like dawn. It takes a steady hand, tricky given the free-flowing wine and amusing conversation. In a room full of women my waxy squiggles became sperm. I blame all the estrogen.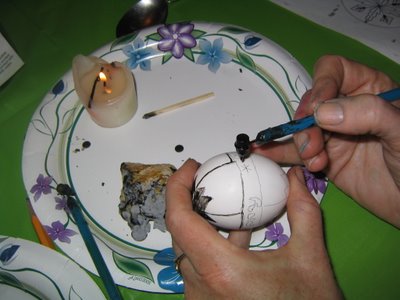 Barb is a special ed. teacher and a ski instructor. Her husband is a commercial pilot who knew enough to retire early to bed. Their house reminded me of Cambridge, Massachusetts with its wood stained moldings and doors, bay window, eclectic furniture and a jungle of houseplants. Barb (standing on the right in profile) has a close circle of friends who met through their little kids, who are now soon to be heading off to college.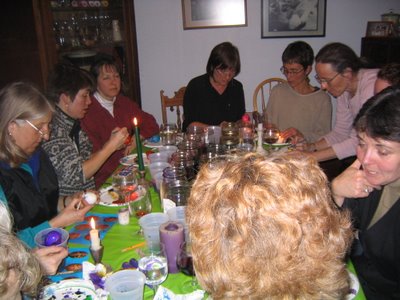 Maria Padian
(second from the left) and
Charlotte Agell
(left of Barb) both write young adult fiction. Maria's debut book is coming out next March; it sold in only a month. She writes that well. Charlotte is waiting to hear back from her editor about her twelfth book, and I'm as eager since I was a reader.
Both Maria and Charlotte have read for me too – it helps to have the support. As Charlotte said, "having a manuscript out there is like standing naked, waiting for someone to throw you clothes." Charlotte illustrates her books, and her egg was as funky, bright and original as her writing.
I had arrived late to the egg party after taking my kids to a Seder at Bowdoin. My nine-year-old daughter sighed with relief when they made only the college freshman rise to recite the four questions of Passover, normally asked by the youngest child. It begins with: "Why is this night different from all other nights?" The answer tells of how Moses led the Jews out of enslavement in Egypt into the desert onto Israel. A Seder is designed for children so that the lessons of the past will never be forgotten.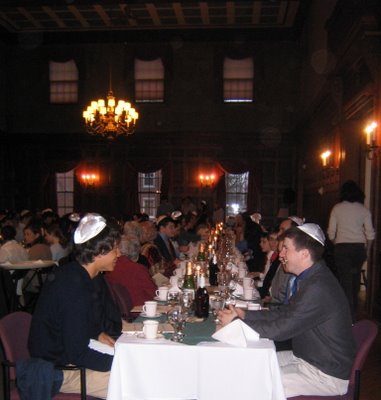 I like to tell my children that the Last Supper was a Passover Seder and that the Jews and the Christians worship the same God. We celebrate a sampling of the holidays: Passover, Easter, Christmas, Hanukkah,
Yom Kippur and Rosh Hashanah
. My children attended
Hebrew School
for several years. At Christmas we go to see their friends perform the
First Parish Church
's pageant. For Easter Sunday we're getting together with two Catholic families on Westport Island.
In England we return to Henry's village church on the Thames. Our son was christened in a Georgian gown passed down through my husband's Anglican family. My son's Great Grandfather Eric lived just long enough for the christening. There were tears of happiness in his eyes as he gave his great grandson a silver mug that had been his.
Religion for me is more about tradition and family heritage than it is about belief. My father is Jewish and my mother is Episcopalian. Her mother was a Christian Scientist and her father a Congregationalist.
Raised among so many religions, it seemed only natural for me to take on religious diversity as a theme in my second novel. In
S.A.D.
(School Administration District) a Maine school board wrestles over adding Creationism/
Intelligent Design
to the science curriculum. Tangled relationships, gossip and quirky personalities interplay in small town politics. It's a dark comedy featuring a love story between a divorced naval wife and a lobsterman.
For research on
S.A.D.
, I went to church. There are a large number of Catholics in Maine from the early French colonists and the Irish farmers who immigrated during the potato famine. In Brunswick there are two Catholic communities historically divided by the railroad tracks. On the downtown side are the French Catholics at St. John's.
I attended the
Irish Catholic church
and was surprised by how casual it was. The choir leader is usually shoeless, and few people dress up. Afterward people hang out for doughnuts and coffee – there were many familiar faces. At this popular church there are three masses on Sunday and one on Saturday evening and on weekday mornings.
I was surprised to find that
The Seventh-day Adventist Church
was not that different. There were hymns and Bible stories with an uplifting sermon. The pastor was a well-spoken woman, and the pews were full of young families and the elderly. The evangelicals weren't dancing in the aisle, although there was more talk of salvation and seeing the light.
Researching my novels has been a broadening experience for me. Like the weather, Maine is never what you'd expect.

Horses on Popham Beach last Saturday.