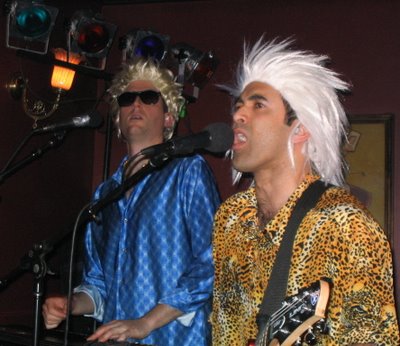 "Oh-my-God-oh-my-God, it's Professor Kitch!" shrieked a Bowdoin blond. When
Aaron Kitch
isn't teaching Renaissance literature at Bowdoin College, he plays keyboard in the 80's revival band,
Racer-X
.
The lead singer and guitarist,
Vineet Shende
, teaches music at Bowdoin. Vin had just come back from a semester sabbatical in India, studying sitar and letting his hair grow as long, black and curly as mine. For their gig at
Ri~Ra
in Portland, Vin clipped his hair short and donned a wig. Stretch pants and leopard print replaced his trademark jeans and leather jacket. Could this be my soft-spoken friend?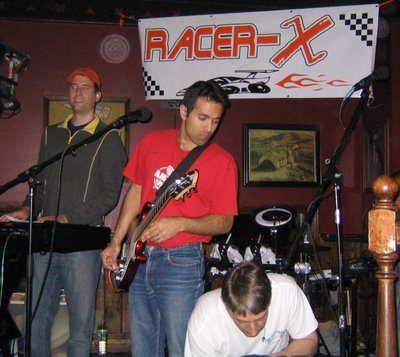 If Henry and I hadn't gotten there early to see Racer-X set up, I doubt I would have recognized our mates. It wasn't only their clothing that had changed. With the amps ramped up, the lights flashing and 20-year-old girls dancing and screaming, these professors were rocking.
Portland is the biggest city in Maine, a half an hour south of Brunswick. By day it's a brick and cobblestone boutique haven of Old World charm, but by night the over-booked restaurants and bar crowds spill onto sidewalks as does the music of live bands.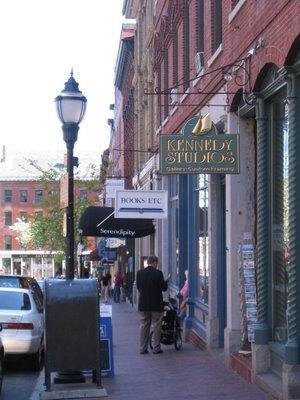 The city doesn't come alive until late, so we killed time at
Books Etc.
(open until 9pm Thursday-Saturday and every night during the summer.) I skimmed the new releases, pleased to see most were in my genre of women's fiction. In the used book section I discovered a hardcover copy of
Amitav Ghosh
's
The Hungry Tide
, the best novel I've read in the past year. I read about two books a month, mostly in my genre and in literary fiction. I've found the best writing teacher to be a well-written novel.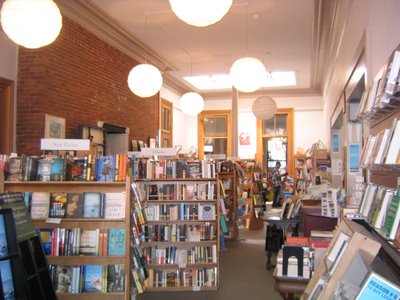 The stalking tiger on the cover of
The Hungry Tide
is as beautiful as the fairytale inside. It's a contemporary story set in eastern India where deified tigers roam free and viciously wild in tidal country. The tough Indian-American heroine has come in search of the elusive river dolphin and inadvertently her ancestry. She hires an illiterate fisherman whose knowledge runs deeper than the hidden pools. It's a world beyond intellect, ruled instead by dreams, spirits and unpredictable storms. The prose is as captivating as the story that compels the reader to read, return and read again like a favorite song.
I've always enjoyed books written by Indian authors. The setting is exotic but the English fluent. There is respect for family, nature and spirituality both rigidly confined and enhanced by culture. Two other favorite novels are
Vikram Seth
's
A Suitable Boy
and
Arundhati Roy
's
God of Small Things
. I've never read a better collection of stories than Indian-American
Jhumpa Lahiri
's
Interpretation of Maladies
.
Lahiri's novel
The Namesake
has just been released as a finely acted film. Vin says it's the story of his life: "Did she call up all the people I know?" It's a modern tale of Bengali immigrants whose son, Gogol, grows up to date a blond. Gogol is torn between his heritage and mainstream culture, struggling to find his footing in a world that sees him as a foreigner, despite being a native born American.
The Namesake
rambles like many first novels, but it speaks with heartfelt honesty. You can almost forgive the hopeless plot that is more of an overstretched story than a novel. As a New York Jew living in small-town Maine, I'm drawn to tales of displacement and discovery.