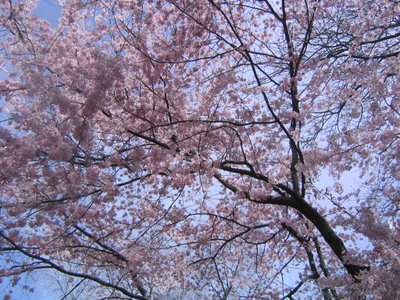 I just had the best day. Early Tuesday morning I swam laps, as I do 2-3 times a week to counter all those hours sitting at the computer, and walked slowly home enjoying the sun. I opened all the windows to the wonderful warm air and produced a NEW chapter after a long, painful week of controlling plot sprawl.
Rambling prose is quite a common problem in a first draft. Many writers can only discover their characters through writing. I need to hear them talk, meet their families and see the world through their eyes before I can decide what is worth sharing. A classic piece of advice I'd heard from a writer-friend: you needed to write that, but I didn't need to read it.
Before my children came home, I interviewed a school board member/former superintendent for research on
S.A.D.
, my second novel. I like to let my imagination run wild and then take a reality check, adjusting details for verisimilitude. Often I ask my experts to spot-check the section later for mistakes and jargon. It's odd being active in real educational politics while writing an imaginary version – almost like living out a dream.
I could have gone back to proofing, but it was low 70's with a cooling sea breeze and everything had started blooming all at once. I took the dog for a walk on the way to get my daughter from girl scouts and lingered in the playground. The girls were playing an inventive mix of baseball, badminton and freeze tag. Even close to 5pm the sun was high above the tall pines. In Maine the flip side of short, dark winters are blissfully long spring/summer days.
On the deck I broke out my library book,
Lionel Shriver
's
The Post Birthday World
. It is written in back to back chapters contrasting what would have happened had the protagonist kissed another man on his birthday or stayed faithful to her life partner. It sounds gimmicky, but it's very well done. There are amusing twists: when she's unfaithful, her partner dotes on her, but he almost ignores her when she's dependable. Her flirtation sparks her creativity, but her work suffers when she leaves her supportive partner. It's the book that answers what if… in two versions, and it does so artfully.
To top the perfect day, Henry and I decided to try
Sweet Leaves Teahouse
with the kids for dinner. All three dinner options were delicious (pork roast, gnocchi and scallops) and it was open mike night. I started laughing so hard I thought I'd fall off my chair to Henry's horror because he thought the singer was trying to be serious.
Afterwards I had to get the name of the woman who sang about menopause, rhyming "my breasts are sagging" with "my energy is flagging," and "aging" with "hormones raging." The singer recognized me from my blog and said I was friends with her sister the writer
Charlotte Agell
. What a small town moment and what a pleasure to meet the talented
Anna Agell
.
Last night I slept well which doesn't always happen. Often during creative bursts I wake in the night and scribble plot lines and dialogue on file cards I keep in the bathroom. I can't help it – the characters wake me with their chatter. Other times I have worried about getting published, but as a writer I keep on writing. I do it because I can't stop and because every day I look forward to working. It's a passion as much as an obsession.
Some people ask how I manage to concentrate while working at home or how I find self-discipline without deadlines. I must have attention excessive disorder. I love what I do, even when it is painful, mostly it is pure joy.