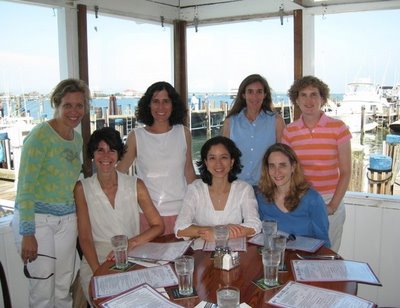 Cathy, Jen, Me, Kim, Deb, Amy, Abigail
(L to R) at the
RopeWalk
"It sounds like it was
The Big Chill
minus the dead body," my husband said. I invited my six school friends to
Nantucket
to celebrate our 40th birthdays. Deb was my first play date when we were toddlers. We met Cathy and Jen in a Central Park playground, and our parents became friends too. Amy, Abigail, and Kim joined us at
the Dalton School
. One other school friend, Anna, couldn't come as she lives in Italy.
Abigail summed it up, "What a fabulous weekend! More important than the beautiful surroundings and weather--though of course they helped--the company was just perfect. I find it so amazing that we never run out of things to talk about, and so comforting to know that we all have been there for one another over so many years, with the various ups and downs that we've all had. It makes me wish there was more time to just pick up the phone and chat with more frequency--and I really intend to do that more--but I guess it also says something that we can easily pick up wherever we left off, no matter how much time has passed."
On Saturday we went on a twelve-mile bike ride and still managed to chat through most of it. Nantucket is small, flat and ringed with bike paths along the moors. The beach plums were in bloom as were the wildflowers. We stopped to watch enormous snapping turtles, a family of swans and a pair of egrets on our way to Madaket beach.
For lunch it was over-stuffed sandwiches on fresh baked bread at
Something Natural
that has been there decades before the health food craze even started. I always order avocado, cheddar and chutney on pumpernickel with Matt Fee iced herbal tea and carrot cake. We ate picnic style in the bucolic garden.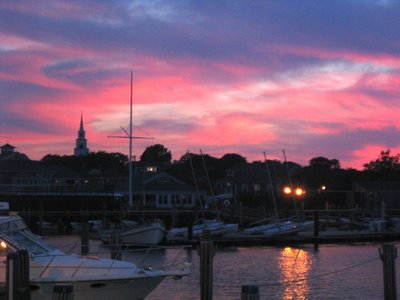 The sunset over the harbor was, as Deb likes to say, "spectacular." Someone noticed that we all have our favorite words. Mine is "literary." A lot of conversations revolved around books. Deb and Abigail worked in publishing before having kids, and we all bonded in high school over our love of books.
I remember taking turns reading aloud passages from romance novels between giggles. We learned all sorts of good SAT words like diaphanous and talked about writing our own Harlequin romance. I wonder now if that is where my idea to write commercial women's fiction germinated.
Now Abigail, with her background in editing romance novels, and Cathy, with her good proofing eyes, are helpful readers. Deb promises a great book party in NYC when my debut novel is published one day. My novels are not romance genre, but there is still romance, which back in high school was a big topic of discussion.
We weren't just bookworms. In high school we spent many a Saturday night dancing at clubs like Studio 54. Promoters passed out free passes in front of our school. Some nights we'd go to the theater, concerts, bars, movies or restaurants, when we weren't babysitting.
Other times we'd just meet up at an apartment to watch a movie or General Hospital over tubs of Haagan Dazs ice cream, warm David's Cookies and TAB. There can't be a more fun and independent place to be a teenager than NYC. It's safer too since no one drives.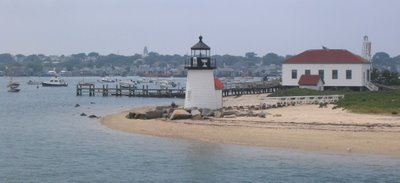 You don't really need a car in Nantucket either. Town has cute boutiques, but sadly the five-and-ten I used to frequent as a kid is now yet another T-shirt shop. On the way to the lighthouse (feeling like Virginia Woolf) we ran into John Kerry, who has a summerhouse nearby. He returned my smile and wave. It was bittersweet thinking he could have been our president instead of out walking alone.
We walked into town for dinner at
Oran Mor
. It feels as intimate as eating in someone's colonial home but with gourmet food. Deb's husband surprised us by calling the restaurant to foot the bill as a birthday present for his wife who turned 40 in Nantucket. Under his instruction, we ordered champagne and the finest wines. He was off fishing with his brother that weekend since their kids were at camp. The other husbands were at home tending kids and dogs.
Heading home to my husband, kids and dog, I took a one-night detour to see my college roommate. We met at the
Harvard Book Store
and laughed over how their table of summer reading included one of our favorite novels,
Vikram Seth
's
A Suitable Boy
, which would be quite a weight in the beach bag. It's not just that it is a serious literary novel about India; it is also over 1,400 pages. Another summer read suggestion was a biography of Einstein. Only in Harvard Square!
My college roommate and her husband are heading off to teach for two years at a school in Columbia. They've rented out their house in suburban Lexington and are packing up their three kids aged three to thirteen. Mike has been a principal at a bilingual school in East Cambridge, and Debbie has worked in teaching and writer tutoring.
Debbie was also another reader for my first novel,
Moose Crossing
. We spent a good part of our sushi dinner at Shilla brainstorming over the plot of my third novel. I'm going to miss not having her around to bounce ideas, but what an adventure to move your family to South America!
I took the Downeaster train, my favorite way to travel from Boston to Maine. It's a pleasant ride through New England towns, farms and marshes, bypassing the summer traffic. Onboard I proofed
S.A.D.
, having finished the first draft of my second novel before my vacation.
Working for myself, I find it helps to set personal deadlines. It takes a disciplined mindset and self-motivation to work at home. After all that social time, I'm ready to revert to my introverted habits, my batteries recharged. This is good since a bigger part of writing a novel is rewriting it. It's a long process of revision, fact checking, additional research and restructuring after feedback from readers. It's exciting to be almost at the point where I can share my work. A book is only a book with readers.