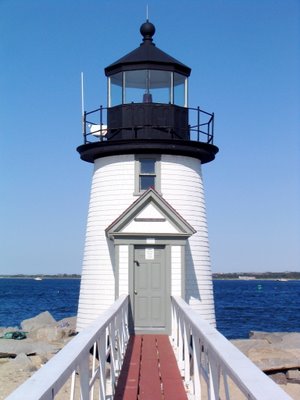 Best to arrive by sea to Nantucket. Two hours of rocking on gentle waves lulls away tension. My children giggle teary-eyed at the ferry's bow, their shirts ballooning. Cape Cod becomes a smeared line on the horizon before sinking. Sailboats blow by like feathers on the wind. Slowly, an island rises in the fog.
Rounding the tiny lighthouse at Brant Point, we enter an expansive harbor of sailing yachts. From this viewpoint not much has changed in decades. Squinting into the mist, it could still be a wealthy whaling town with its cobblestones, gas lamps and venerable architecture.
For over three decades my family has been coming to Nantucket. The grey-weathered shingles climbing with roses were a welcome contrast to hot concrete. The island is wrapped in an endless beach with the Gulf Stream warming the water. At night elegant restaurants take advantage of local farms and day boat fish.
Mostly I come to Nantucket to read. There are two independent bookstores and a good library in town.
Nantucket Bookworks
has a large selection of modern classics while
Mitchell's Book Corner
stocks more current women authors. By odd coincidence the three books I read were gender benders: two men writing about women and one woman writing about men.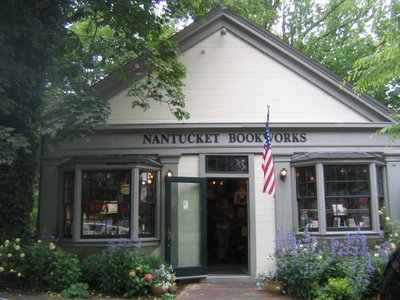 Haruki Murakami
's just released
After Dark
is a departure from his recent novels. The main characters are female: one sister with insomnia and another trapped in sleep. It reads more like a stretched short story or a dream unfolding over one night. It lacked the well-structured plot of his other novels, but it was just as surreal and evocative of alienation in modern Tokyo. He is one of my favorite authors with his original voice and flawless prose.
Ian McEwan
's
Atonement
left me stunned. It brought to mind Jane Austen, Evelyn Waugh and Leon Uris, but it stands independently as a modern classic. It's an intensely human book with characters that are deeply flawed but sympathetic and real. McEwan writes so well about women and family. Set during World War II amidst class conflict, it's a depressing story but told with such eloquence as to be uplifting. It's a good vacation book because once you start, it's impossible to put down.
Annie Proulx
's
Close Range
includes the story that became the movie
Brokeback Mountain
. That sad tale was one of the more upbeat stories in this beautiful collection. In this book it is a woman writing in a male voice. The writing is as raw and stunning as the western landscape. I find her work an inspiration, although bleaker than I would dare to venture. Proulx allows the landscape to become a character in the narrative; more than a setting, it sets the tone.
Writing is quite like painting. First mix the characters and then block out the plot before finding the light, the shadows and the details. The trick is holding onto the negative space – you feel that with Proulx. Her art is as much about what she doesn't say as what she does. There is no better teacher than a well-written book.
Happy July 4th!