Kennebunk Beach
Just my luck to have a big snowstorm on the day my parents were due to drive from NYC to Maine. Undaunted, they followed the storm all the way up the coast. My mother said it was fitting since I was born in a freak two-foot snowstorm in NYC forty years ago. She's always loved storms.
We met my parents for dinner at the best restaurant in Portland. My favorite dish at
Fore Street
is the wood oven-roasted mussels, and the quail is always fabulous too. Outside the snow swirled in dizzying circles, but the open-fire kitchen and raw brick walls lent a warm atmosphere.
After dinner my parents drove our kids home while Henry and I headed south to Kennebunkport.
The White Barn Inn
houses a gourmet restaurant, a spa and luxurious accommodations. It felt like a European four-star hotel right down to the courteous foreign staff. A young man pointed out that there was "irony in the closet." He meant an ironing board. I've made more than a few similar mistakes in French so I didn't laugh.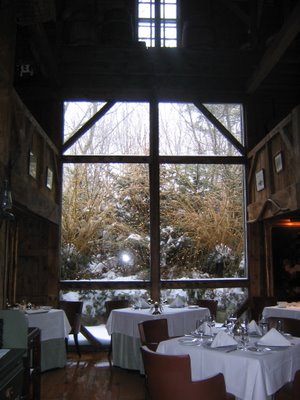 Meals were served in the old barn with an eclectic mix of fine oil paintings, life size cows, stained glass and table ornament animals forged out of cutlery. The eight-course dinner by the English chef transported us to gourmet London. I especially enjoyed the palate cleanser of beet sorbet in balsamic vinegar. The accompanying wines were perfect as was the raspberry soufflé. It was hard to chose among all the cheeses, both local and European.
Add to the experience a massage in a fire-lit couples room followed by an English high tea, and I realized turning forty wasn't half bad. They even dug our car out of the snow.
We had a simple lunch at
Alisson's
in Kennebunkport. The cute little bungalows stilted over a canal made me think of a European hamlet, but the wild, marshy expanse of river feeding into the ocean was pure Maine.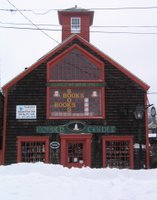 We spent a good hour browsing at the
Kennebunk Book Port
. If anyone has a dream of owning a quaint bookstore, it's for sale. There wasn't a huge selection, but it had been carefully chosen and housed in the loft of a 1775 rum warehouse overlooking the water.
Even though I travel with a bag full of books, I picked up
Alice Hoffman
's
Blue Diary
. It's a book somewhat similar to mine: a well-written page-turner about a family in jeopardy set in a quiet New England town. It explores relationships and betrayal. I'm halfway through and enjoying it.
Back at the inn by our fire, Henry read aloud Pierre Daninos's
Major Thompson and I
(1957.) It reminded us of P.G. Wodehouse with amusing tales of the English upper class. The passage tying English temperament to the erratic plumbing was hilarious.
I know England well thanks to my British husband. Henry and I met at Harvard 19 years ago in off-campus housing. My phone wasn't working so I went down the hall to try it at a friend's, but she wasn't in. I randomly knocked on another door, and there was Henry with his gorgeous green eyes and charming accent. He was flipping pancakes with a room full of Brits for
Shrove Tuesday
. He listened to my explanation and then said, "Get rid of the phone and have a beer."
Henry said that it was love at first sight. On our first date we saw the movie of James Joyce's
The Dead
and ate sushi. Henry brought me daisies and chocolates the next day and was nonplussed to find me with another man – he didn't know my handsome friend was gay. When I caught the flu, Henry looked after me, cooking a delicious chicken tarragon stew. He could recite Monty Python and Shakespeare.
Three and a half weeks after we met, Henry proposed. Four months later, I accepted. We were living together that summer in London. He kept trying to trick me with the triple negative: "Is it not true that you would not consent to refuse to marry me?" Other times he'd conjure a double rainbow over the Thames. I didn't stand a chance. I'm still crazy in love with him now. There's nothing like a romantic weekend away to bring it all back.