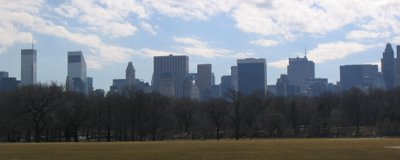 My family has a rule (too often broken) that if you're still eating one meal, you can't talk about the next meal. We've planned entire vacations around fine dining. Depressed in Switzerland, we once drove across the Alps to Italy just for lunch on Lake Cuomo, and it was worth it. In the 1970's, before
Zagat's
and food bloggers, my dad got written up in
The New Yorker
for his personal computer program allowing you to pick a NYC restaurant by cuisine, quality, atmosphere, price and location. When I visit my parents in Manhattan, I'm going to eat well both in the home and out most of the time.
I flew in a day early to avoid Friday's big storm that flooded New York and dumped a wintery mix in Maine. My mother prepared sole in capered tomato sauce from Marcella Hazan's
The Classic Italian Cookbook
. My father broke out the last Mondavi Blanc, which had aged since 1978 in his self-made wine cellar (an insulated closet with an AC.) My dad's a venture capitalist so the conversation is often interesting. That night we discussed funding a proposed expedition for sunken treasure.
For lunch on Friday my mother and I crossed Central Park to the West Side for Vietnamese food. The
Saigon Grill
at 90th and Amsterdam has a sister restaurant on the East Side, but it's closed for renovation. To call Pho Bo an oxtail noodle soup does not capture the subtle flavors of the paper thin sliced beef in the piquant broth. Fresh Oriental basil, sprouts and hoisin sauce come as condiments. You can easily eat lunch for $6 a person, but you won't be alone. The cavernous restaurant was packed, but the service was prompt.
We met my father for dinner at Maya (1st Ave at 65th), a gourmet Mexican restaurant with high ratings in Zagat's and even a mention in the Michelin guide. I don't know if the chef just quit or what, but the food was disappointing. The special ceviche tasted like rubber in ketchup. My father ordered his favorite chicken mole, but it was no better than my special tuna nor my mother's red snapper. At least the margaritas and mojitos were good enough to drown our sorrows.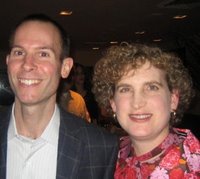 Saturday night I went out with my old
Dalton School
friends. Deb drove us downtown to 20th and Broadway for Abigail's and Andy's joint 40th birthday party. Deb can find a parking spot anywhere, which is quite a skill in Manhattan, especially given the size of her Range Rover. In the city if you see a parking spot you take it, even if you don't need it.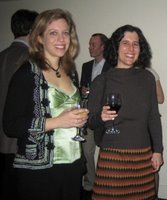 Craftbar is known for its excellent food and cool décor. The two-story open space dining room was all black, white and red transected by what looked like a fire escape. Abigail had booked the private dining room below, which was perfect for 30 guests. Remember the banker who was reading
War and Peace
on his Blackberry at the
last NYC party
? Well, he's quit, but only because he didn't like the book. Everyone laughed to hear that I too had quit after 150 pages.
On my recommendation, my friend is now reading and enjoying
Lewis Robinson
's
Officer Friendly
. Robinson is a young Maine author who has an MFA from the Iowa Writer's Workshop. He also apprenticed with John Irving. A gifted and original storyteller, Robinson writes in a very male voice, which is, perhaps, part of his appeal. His perfectly crafted stories are about sensitive but manly men set in small town Maine under extenuating circumstances. I hear he has a novel coming out soon – I'm awaiting it eagerly.
On Sunday I met my cousin for lunch. I don't have a sister, but Gabrielle has been like one to me. Our lives have intersected and reversed over the years. She grew up in a southern college town with an academic father while I grew up in NYC with an investment banker father. At my wedding, Gabrielle met our best man Fabio, a banker, and they fell in love. Now they live in NYC, and I'm married to a college professor in small town Maine.
The lunch at Boucheron Bakery was very good, but the setting was even better. It was worth the ridiculous price and long wait for a table. Suspended on the third floor balcony, the view over Columbus Circle to Central Park is spectacular. The AOL/Time Warner building is an oddity in the city – it's really a mall if an upscale one at that.
After lunch we scanned the new titles at Borders, and then walked up Broadway towards Gabrielle's home. We stopped into her local grocery store, crossing a picket line against (I kid you not) foie gras. I agree it's too cruel to force feed geese, but only in NYC would it be worth a demonstration. Gabrielle abandoned me at yet another bookstore (I admit to being a junky.) I resisted the urge to buy since I was half way through a library book (
Debra Ginsberg
's
Blind Submission
– very funny parody of the literary world.) I walked home through Central Park in time for a fine dinner of spit-roasted chicken stuffed with cellery and ginger crafted by my dad.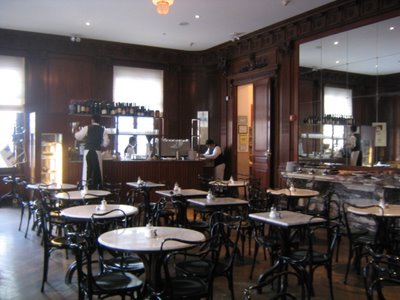 Before I flew back to Maine, my mother and I visited the
Neue Galerie
and had lunch overlooking Central Park. Café Sabarsky is known for its Viennese desserts – an excellent place for tea in an Old World setting. Most of the museum was shut in preparation for the Van Gogh and Expressionism exhibit (3/22-7/2,) but we could still admire the golden Klimt's on display.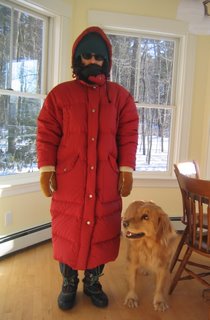 The first day back home in Brunswick, I was afraid to go outside even to walk the dog. I woke up to minus two and high winds. Stella popped out her dog flap and then promptly went back to bed, hiding her ice-cube nose in her paws. The temperature never made it into double digits. Still, it's great to be back home with my family and time to write.