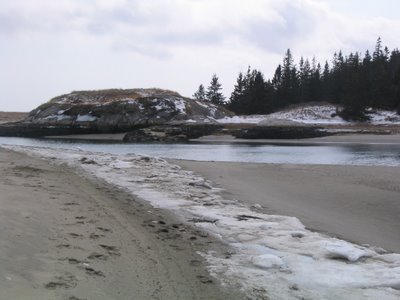 Popham Beach this past weekend in forty degree weather.
My twelve-year-old son asked, "Mommy, what do you want for your birthday?"
"I don't really need anything. Maybe a nice card."
"Could you be more specific?"
"More specific than a card?"
"A card? I thought you said 'a nice car.' Some people need a new car to help themselves through a midlife crisis."
"What?! That's exactly what I do not need: absolutely no mention of midlife crises. Forty isn't that old." We both doubled over in laughter, which was exactly what I did need.
I'm not too happy about turning 40 this month. There's nothing wrong with my life: great kids, happy marriage, good friends, nice home and I love my work. That's the key: work. Big birthdays are benchmarks, and
my book
isn't in print yet. No "young writer" awards for me, but I have at least written a good book. It just took longer than I had anticipated to reach this point in my profession.
I don't regret the time I took off from career to raise my young children and to care for my husband during a two-year health crisis. Those were really important times for my family and for me. I grew a lot and gained appreciation for what I have. My writing voice matured through the experiences.
I didn't even realize I was a writer until I had something to write, and now that I've started, I have so much more to say. There are decades to write all the other books in my head, and my kids only get easier and more independent every year. My husband is in good health again too.
I woke the morning I turned 40 with a sense of relief that nothing bad had happened despite my dread, like looking out the window after a storm or down to find my toes for the first time in weeks after giving birth. There's a sense of accepting who I am rather than of being what someone else expects. As a writer, my identity is inside not on the surface. And yet I still feel just a little sad as if I've lost something, despite Henry's poached eggs and our daughter's sweet card.
Why is 40 so hard? I spoke to a good friend who had just done it last year. She's a successful doctor with two healthy kids and a strong marriage. They live in the most beautiful home, but even she was not satisfied. She wished she had time to pursue her creative side and publish children's poetry. Knowing her, she probably will, but she hadn't by 40.
Most women make trade-offs between career and family, and those who do it all are inundated. Then along comes the big birthday. Even with the balls juggled competently in the air, we only see the one ball that dropped and rolled away.
What's the solution to the doldrums? Another friend, home with her kids, turned 40 last month. Her advice was to celebrate. She had a party for friends and family, was going away to Mexico with her husband and then off for a spa weekend with a girlfriend. I'm not making this any easier on myself by saying I'd rather have a book party.
I am going away with Henry this weekend and met him for lunch on my birthday. I chose
Sweet Leaves Teahouse
where we had planned to go on that stormy Valentine's Day. It's sunny and warm, just like its owner, Jessica Gorton. She moved here from NYC to enjoy the wilderness. The ingredients are local, wholesome and original. Like
Frontier
, it's new this past fall to Brunswick and sponsors cultural events. There are open mike nights and jazz Sundays. It cheers me to find that my little northern town is becoming a hip place to settle for the next generation.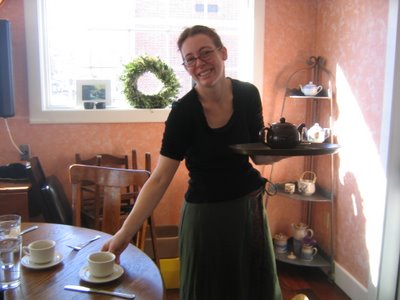 Jessica is stepping up a decade this month too, and shared her thoughts on turning thirty: "Most of me doesn't care at all, doesn't really think about age in that way. Part of me is sad about the end of my twenties (which, for all their drama, were a lot of fun). Another part of me is glad to be going into a new decade, and also to be of an age that (in theory) engenders more respect...now I'm an adult, and maybe will be seen as one."
Henry teaches at Bowdoin College so we are always surrounded by younger twenty-somethings. Some come to me to talk about alternative careers. All this free choice and opportunity and instead of feeling overjoyed, they're overwhelmed. I remember feeling that way too. I had absolutely no idea what I wanted to do with my life.
As we age, it's easier to see what it is we want and hopefully to master the skills to achieve it. In our twenties we didn't know where to start. Then in our thirties the ticking biological clock added complications. By forty we women should be happy and proud of what we have accomplished even if it wasn't as much as we had dreamed. Isn't it part of still being young to keep on dreaming and wanting more?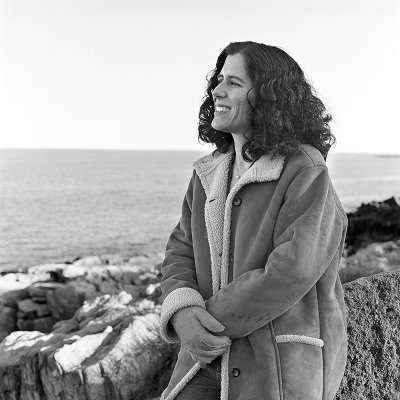 Bailey Island Photo by Catherine Ferdinand