On summer evenings the skies are a bright blue that glows from the horizon and intensifies in hue above. The buildings jump out in sharp relief, looking like you've put on glasses for the first time. Low humidity, a gentle sea breeze and a warm sun slow to set mark June in Maine. There's a quiet peacefulness: a lingering "ahh" after the long winter and before the busy rush of tourist season.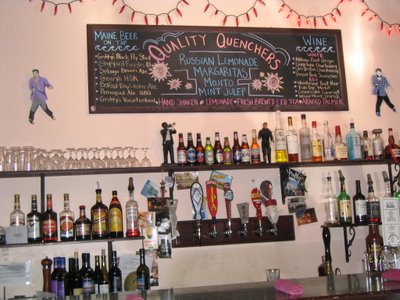 After a day on Popham Beach, we sometimes treat ourselves to dinner in Bath. We don't go for lobster but for Memphis style barbecue at the
Beale Street Grill
. Zappy black and white décor, blues posters and Elvis icons are a surprise to find in this historic shipbuilding city. The food is excellent: spicy and smoky with an interesting children's menu. It's known for its pulled pork and local brews on tap.
We had stayed late on the beach as the kids swam, and I finished Marisha Pessl's
Special Topics in Calamity Physics
. Pessl has a bright and original voice that transports you back to the pains of late adolescence with its conflicting desires to judge, mock and fit in.
The narrator, a precocious high school senior called Blue, speaks in erudite footnotes, amusing, but after 500 pages, a bit tiresome. Her ironic observations are hilarious. She dismisses a potential suitor as being born in "the wrong decade" with his perfect, shiny hair earning him the nickname "Chippendales." You keep reading for the unexpected combinations like the pretty boy's blond curls on his sweaty forehead described as Cheerios soaked too long in milk.
The weakest part of Pessl's book was the murder or suicide mystery. I don't think that far-fetched plot line was necessary to drive the narrative. Still, as a first novel by such a young author, it was impressive. I'd recommend this book for young adults more than grown ups.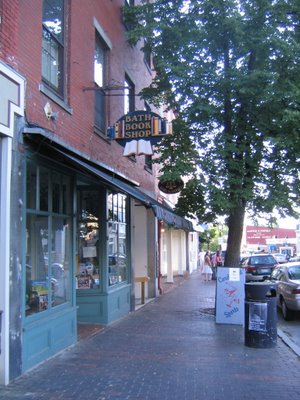 I might look for a new book at the Bath Book Shop, which in itself is worth a trip to the little city. The cozy store promotes local authors and has an extensive children/YA's section. The owner is as knowledgeable as the best children's librarians.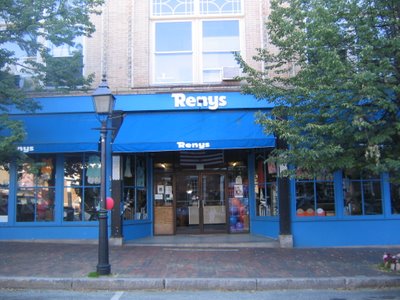 Up the brick sidewalk is Reny's, an old five-and-dime. Great place to find anything from camping chairs to discounted men's clothing. At a corner over-looking the Kennebec River is Café Crème, a Wi-Fi hotspot with homey charm, featuring native ice cream. After a reviving espresso, you can browse the trendy boutiques and antique stores or visit the excellent
Maine Maritime Museum
.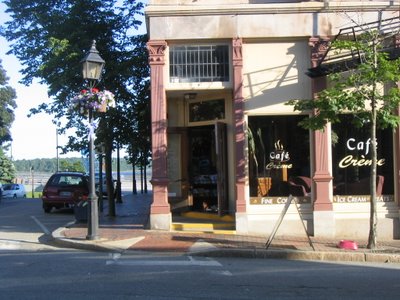 Bath doesn't appear to have changed much since its high days of being a wealthy ship captain's town, but it has. Iron naval ships instead of wooden clipper ships are constructed on the Kennebec River that flows deep to the ocean. Charming Victorian and earlier period houses adorn tree-lined streets, but the city is no longer in past century financial boom.
Bath Iron Works
dominates the skyline and drives the economy that is increasingly becoming dependent on tourism.
Bath is worth a stop off Rt. One, driving east from Brunswick. It encapsulates the Old World meets next generation feeling of mid-coast Maine. It's as nice a mix as the frozen cappuccinos I wasn't able to find when I moved north a decade ago. Have I really lived here that long?