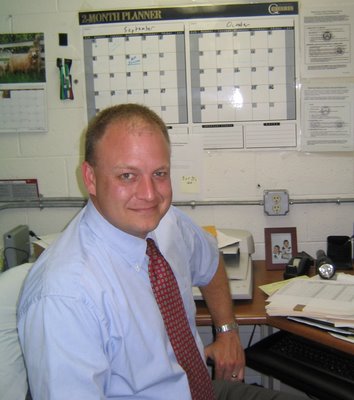 For the second time in the past year I was in the police interrogation room. It's in the windowless basement over-illuminated by flickering fluorescents. It amused the detective to be on the receiving end of the interrogation. The crimes never happened; they exist only in my mind and on the written page.
Like a character from one of my novels, Detective Mark Waltz of the Brunswick Police Department is not what you would expect. At Bowdoin College, Mark caught the law bug in
Dick Morgan
's class on criminal justice. The summer after his junior year, Mark trained to become a foot patrolman at in his New Hampshire hometown.
Mark graduated from Bowdoin with the aim of joining the FBI, but first he would need three years work experience or a law school degree. Mark chose law school. Upon his graduation, the FBI had a hiring freeze.
To pay off his student loans, Mark joined a law practice in Brunswick. After four years, the police chief enticed Mark to join the Brunswick police force as a detective. The pay and benefits were not that different, and Mark missed police work.
Mark described his career change as "having a midlife crisis at age thirty." He loves being a small town cop and still practices law (but not criminal law) on the side part time. He enjoys the personal connections on his beat and living in a good community to raise a family.
For
Moose Crossing
I set up an appointment last fall with Mark to discuss a missing child. I had a working mom dilemma. My nine-year-old daughter was home from school due to a teacher's workshop, but the subject matter of my research made for the worst "take your daughter to work day." I most certainly couldn't leave her at home alone so I dropped her off with my husband to sit through student office hours. She learned about Japanese politics while I learned about the most heinous crimes.
I was relieved to hear that in my town, children have gone missing but never kidnapped. Mark talked me through the procedure of a missing person search. An expert can help me find the many branches from every plot twist.
For
S.A.D.
, my second novel, I called once again. "Mark, I need your help. I found a dead body on page one, and I'm not sure what to do with it."
Mark walked me through the crime scene and all the possible permutations. I don't think I'll use the autopsy detail about re-stuffing the organs into a plastic bag like turkey giblets and then sewing up the body for the funeral. Too much gory detail for women's fiction!
I'm not writing a murder mystery; still, a novel about educational politics and religious fundamentalism could benefit from some drama. I now know what to do with my dead body, assuming this plot line remains in
S.A.D.
. Anything can happen in between the first and final drafts. Like a detective, it's my job to uncover the story.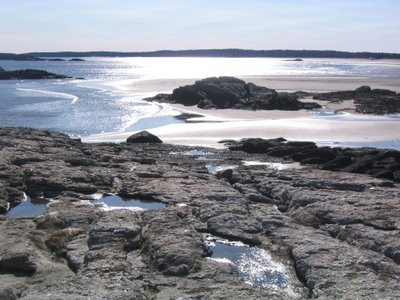 Popham Beach: a setting for SAD