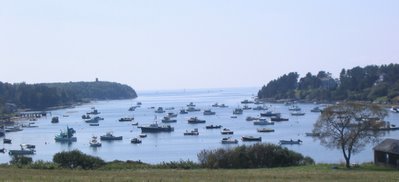 Mackerel Cove, Bailey Island
I went out with the Marine Patrol to research lobster crime for my second novel. The coast guard rescues people at sea, but enforcing state fishing laws and safety regulations falls under the jurisdiction of the Maine Marine Patrol. These waterfront policemen become part of the community they serve. It's all about knowing the people and working with them to maintain a sustainable fishery and deter crime.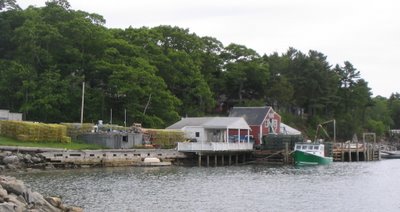 Allen's Lobster Pier at Lookout Point

Lobster thieving is common, especially with prices reaching record highs. In January it peaked at $11.00 per pound off the boat. It's a valuable commodity floating in holding crates, often unlocked, below the docks. The live lobsters are not tagged so they are hard to trace. After a string of recent robberies, most of the wharves now have surveillance cameras. In search of easy money to buy drugs, some crafty criminals cut power lines or don scuba gear.
Marine Patrol Officer Robby Beal at Interstate Lobster Pier
With M.P.O. Robby Beal as my guide, I set out to inspect the lobster wharves. Robby grew up lobstering since age seven with his Dad off
Mt. Desert Island
. He went to Syracuse University in New York, but the sea called him back to Maine. In yet another small town moment, I discovered that his sister-in-law was my daughter's teacher.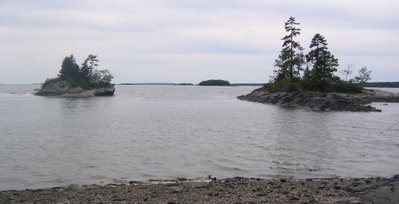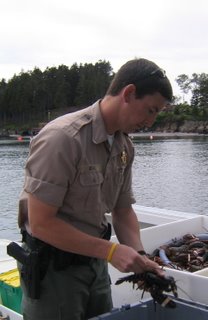 Robby picked me up in Brunswick and drove south through Harpswell down a narrow neck of land. After days of rain, the sky was washed clean to bleached blue with sixty-degree weather and a gentle breeze. It was fresh as linens on a line. What a day to drive along the coast, stopping at hidden coves riddled with small islands.
Most of the wharves were quiet since it's early in lobster season that in this region kicks in mid June and lasts through Christmas. Some set traps year round but have to buy an expensive offshore fishing permit. The annual lobster migration follows the warm water from the shallow, tidal coves out to the open seabed. At this time of year, most of the catch are shedders. To grow, lobster shed their hard shell. The soft shell lobsters are easier to eat and sweeter but not worth as much since there is less meat per pound. The old timers know to wait.
Redder shedders hauled up by the Whistlin' Dixie

Bobby Bibber has been lobstering for over forty years. He makes and maintains his wooden traps. His wife, Marolyn, was painting the rusty parts of their metal traps. Bobby's family has been fishing in this area since 1650.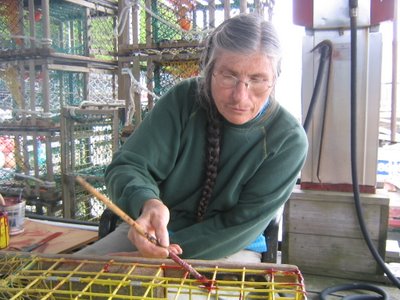 Merolyn Bibber
The Bibbers still live in an old house overlooking the docks. High property values and soaring taxes have forced the younger lobstermen to commute from inland. The old fishing shacks are torn down and replaced by luxurious summer homes. That's the worst lobster crime in my book.
Bobby Bibber
The story of Bobby's childhood was worthy of Dickens. His father had a drinking problem and let his injured wife die of neglect. Bobby and his brother became wards of the state and set to work on a farm. When Bobby was 13 and his brother 14, they heard from the minister that their two sisters were living with their father.
The boys stole the farm pick up truck and went in search of their lost family. When his brother ran a stop sign, the police gave chase. Scared, the boy sped off at 80 mph. He didn't stop until he lost control and crashed into a tree. The brothers blacked out but, even without seatbelts, survived the impact; the truck did not. It took two wreckers to unwrap it from the tree.
Bobby and his brother fled the crash site and hid in the hills for a week, living off berries. They then headed off to Portland on foot hoping to find work. When the disheveled pair made it to the biggest city in Maine, they were arrested for bank robbery. They were innocent of that crime but not for the stolen truck, driven too far from the farm by a minor. Instead of finding their family, they were sent back to the farm with a criminal record.
After enlisting in the marines, Bobby returned to his old home in Harpswell to fish for lobster. He practiced shooting at eight-penny nails hammered into a tree. He has a .357 pistol and a rifle. That tree is going nowhere.
Bobby's sharp shooting came in use on the night he awoke to the sound of lobster thieves. He called the state trooper and loaded his pistol with two bullets. He fired a warning shot into the ground, but the thieves jumped into their truck.
I can't share the rest of the story because a fictionalized version will be in S.A.D. It was a good day of lobstering: I hauled in a salty tale.