While on a writing spree, I wish I could hook my computer up to an I.V. Why not? It could be the next thing after i-pod and i-phone. I have trouble stopping to eat let alone to cook. Luckily I'm married to an excellent chef.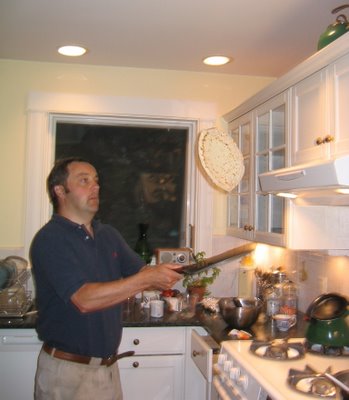 Henry Flipping Crepes
Henry's lobster cakes can be made from frozen lobster for those of you from away. Try to get Maine lobster since Maine has the most rigorous regulations to ensure sustainable fishing. Frozen or canned Canadian lobsters could be egg laying females. The brand Henry buys at Hannaford's is packaged in Portland, Maine. Lobsters don't have central nervous systems (like bugs)and are only high in cholestrol if you dip them in butter. Hold the side-order of guilt!
Lobster Cakes:
1 seven ounce tub
Cozy Harbor lobstermeat
(cooked):
chopped fine.
2 small shallots, very finely chopped
1/4 of a red pepper very finely chopped
1/4 cup regular breadcrumbs
1 egg, beaten
2 tsp butter
fresh cilantro, finely chopped
juice of 1 lime
splash of martini/vermouth (optional)
1/2 cup panko (Japanese breadcrumbs)
Old Bay Seasoning, chili, thyme
evoo (extra virgin olive oil)
Use a non-stick pan (
scanpans
are great.)
Combine lobster, seasonings & cilantro, breadcrumbs, lime juice and bind w/egg.
Fry shallots and red pepper in evoo at very low heat. Sprinkle w/thyme.
Add cooked shallots + peppers to lobster mixture.
Deglaze pan w/vermouth and add to mixture.
(Refrigerate if needed)
Form into golf-ball sized patties and roll in panko.
Makes about 9 or 10 patties.
Fry till brown in evoo and 2tsp butter.
Roasted Red Pepper Sauce:
3 peppers
2-3 onions
1 clove garlic
1/2 tin Italian tomatoes
1 tbs mango chutney
1 tsp sugar
fresh basil or cilantro (or both)
thyme
1/2 tsp crushed coriander seeds
1 tbs evoo,
1/4 tbs balsamic vinegar
1 tbs butter
Toss peppers in 1/2 tbs evoo, 1/2 tsp coriander seeds, S&P.
Roast at 400 for 30 mins.
Caramelize onions: cook in 1 tbs butter, covered, seasoned with thyme and S&P, till liquid releases. Cook uncovered till liquid evaporates.
Add 1 tsp sugar and caramelize till tasty brown.
Melt 1/2 onion with 1/2 tbs evoo in heavy saucepan.
Add garlic, cook 1 min. Add toms, simmer.
Puree 2/3 peppers and 1/2 onions in blender w 1/2 tbs evoo
and 1/4 tbs balsamic vinegar.
Coarsely dice remaining peppers.
Add pepper sauce + chopped peppers to tomato sauce,
w/ mango chutney, basil.
Cook through. Season.
Garnish lobster cakes with cilantro and/or basil. Serve on capellini with a side salad and white Bordeaux: