Help! I'm feeling a bit snowed under. I think our barbecue is under that pile to the left, but I haven't seen it in months. It is snowing right now. Welcome to Maine in March. While the rest of you are admiring your daffodils, Maine gets the most snow all winter this month. This year and
last year
were unusually snowy. During the day, the drifts shrink under the warm sun. At night it falls below freezing, and un-groomed snow becomes a treacherous sheet of ice.
What is a Mainer to do? Head to the Brunswick Naval Air Station to ski. The sailors have kindly groomed a double track through the woods and a single track around the golf course. There's a sign on Rt. 123 across from Mere Point Road, welcoming visitors. Drive in the open gates and park in the golf course lot to your left. You can ski from either side of the road, but most of the trails are directly across the road from the parking lot.
Start off skiing into the woods. It is a flat, easy trail leading to the water in under a mile. That's my son who is on his school's Nordic Ski team. He competes in classic (ie regular cross-country) skiing too. These trails are groomed for classic, not for Nordic/skate skiing. I taught my son how to ski, and now I get a work out trying to keep up with him. He goes "slow" for me.
After you reach the coast, reverse back through the woods. Halfway back, take a right to the golf course. There are a couple of fun hills, a treat in flat Brunswick.
The marsh is beautifully peaceful if you don't mind the roar of jets on the nearby runway.
You'll ski by the water once again. The whole loop takes under an hour. I've seen wild turkeys and other birds. There are moose in these woods too. The base is in the process of closing by 2011, and hopefully this land will revert back to town commons.
Here's my friend Barb (middle) skiing with our friends Alida and Jean. She's a Special Ed. teacher and a ski instructor. You might remember Barb from my post
Mixed Religions & Mud Season
. Her husband is a commercial pilot who used to be in the air force.   There are also commercial pilots in Brunswick who used to fly for the navy.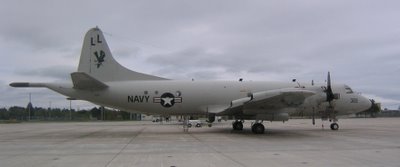 In addition to being a college town, Brunswick has been a naval town since World War II. For decades the base has brought naval families into our community. Their children used to comprise 20% of our school population. Despite their short stay of 2-3 years, parents and others frequently volunteer in our community and in our schools. My daughter's soccer coach trained
bomb dogs
.
I've been to the base a couple of times for
research
. My yet to be published novel,
S.A.D.
, tells the story of a navy wife making the transition to civilian life in Brunswick. It's an end of an era, seeing the base shut and the land opening to the public. Bitter sweet.
Blog Watch:
Congratulations! Jane Green got
married
and is just finishing the final edits on her latest novel,
Dune Road/Girl Friday
, which will be out in June 2009. Donna@The Doll Sweet Journal is
pregnant
. Jamie and Randy@Creating our Eden posted a
heart-warming story
about bloggers helping a garden in need after a tornado. It's especially nice to hear some good news these days.